ABOVE TIMES IN Central European Time (UTC+1)
TIMES IN OTHER TIME ZONES: 
Bangkok: 11pm, 1am, 3am
London: 4pm, 6pm, 8pm
Kiev: 6pm, 7pm, 9pm
Los Angeles/Tijuana: 9am, 11am, 1pm
Tehran: 8:30pm, 10:30pm, 0:30am
Tickets for gold extra's digital theater are now available on the ARGEkultur Salzburg website.
The admission is free but reservation is required. Please obtain a free ticket as a reservation if you want to join the performance.
Unfortuntately some parts of the Registration Pages are in german, here is a guide through the process, you can do this! :) 
           Click Here (automatically translated via google)
          The password must be at least 8 characters long and 
           contain characters from three of the four groups: 
       * Capital letter
       * lowercase letters
       * Numbers
       * Special characters: !@#$%=&*?_+-:;()<>
     Agree to the Terms and click "Registrieren / to register"  
     You will get an email (in german language) with a confirmation link, just click the link!
 
2.) Click on the link in your mail, then fill in the obligatory fields (*). If you dont want to put a phone number, just put any number. 
            Then click on "Speichern" to the right. 
          Click Here , Then on "Tickets" next to the Show you want to reserve.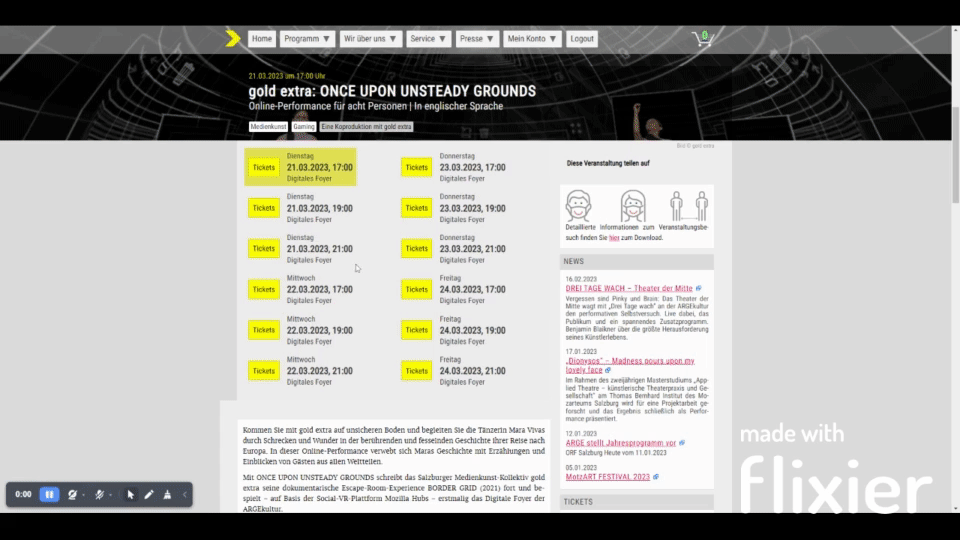 4.) Done! You will soon get a mail with all the instructions
         and access to the show!
The piece:
Digital theatre by gold extra
by Reinhold Bidner, Tobias Hammerle, Sonja Prlić, Mara Vivas and Karl Zechenter
with Nathaniel Eras, Parisa Ghasemi, Derek Holguin, Haydee Jimenez, Sharut Komalittipong, Felix Ludwig, Ashkan Nematian, Ielizaveta Oliinyk, Sasapin Sirawanij
Production assistance: Sophia Reiterer, Julia Buchwieser
Follow gold extra to unsteady grounds and join dance artist Mara Vivas through fears and hopes  in the touching and compelling story of her journey to Europe. In this online performance, Mara's story interweaves with narratives and insights from guests from all parts of the world.